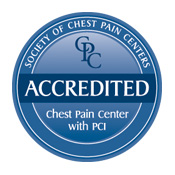 West Florida Hospital has received the area's only Chest Pain Center Accreditation from the Society of Chest Pain Centers. West Florida Hospital undertook a rigorous re-evaluation and refinement of heart care processes in order to integrate the industry's best practices and newest paradigms into its cardiac care services. West Florida Hospital's state-of-the-art heart care works seamlessly with area emergency medical services to ensure that patients get the treatment they need during the critical early stages of a heart attack.
As the area's only Accredited Chest Pain Center, West Florida Hospital ensures that patients who come to the Emergency Department complaining of chest pain or discomfort are given the immediate treatment necessary to avoid as much heart damage as possible. Protocol-based procedures developed by leading experts in cardiac care to reduce time to treatment in the critical early stages of a heart attack are part of West Florida Hospital's overall cardiac care services.
West Florida Hospital's Chest Pain Center is one of only 317 certified centers nationwide and is the only accredited Chest Pain Center in our area.
"We are very proud to have earned this important designation," said Dennis A. Taylor, president and CEO of West Florida Healthcare. "Studies have demonstrated that hospitals with Chest Pain Centers significantly decrease mortality for patients with heart attacks and improve the provision of care and treatment."

Heart attack is the leading cause of death in the United States with approximately 1.2 million new and recurrent coronary attacks per year. About 34 percent of people who experience a coronary attack in a given year die from it. While recent medical advances have reduced the damage and deadliness of heart attacks, success depends upon a speedy implementation of the most advanced remedies.
"This means patients must recognize the signs and symptoms of a heart attack early on, and physicians must be able to provide rapid diagnosis and treatment," saysDr. Daniel Phillips, Medical Director of West Florida Hospital's Chest Pain Center."The key to saving lives and heart muscle is to institute treatment immediately, before the condition worsens or permanent damage occurs."
West Florida Hospital's Accredited Chest Pain Center provides a specialized treatment and observation setting where physicians are better able to institute urgent treatment within minutes of a patient's arrival at the hospital or monitor patients when the extent of their coronary event is unclear. When the patient is having a heart attack, West Florida Hospital's Chest Pain Center team follows the SCPC care guidelines, which include the timely administration of an electrocardiogram and, when needed, clot-busting drugs and emergency cardiac catheterization. Those identified as being low risk for a heart attack may receive exercise testing and a noninvasive cardiac stress study to determine if admission is necessary or if they should be released. By following the SCPC's guidelines on personnel, equipment and systems, West Florida Hospital is optimally equipped to handle the challenge of properly diagnosing and treating patients experiencing chest pain.
"Our commitment has always been to provide the most accurate, effective and efficient treatment of chest pain that we possibly can," continues Dr. Phillips. "This accreditation validates our accomplishment of this goal."
To complement West Florida Hospital's newly-accredited Chest Pain Center, the hospital is the only facility in the area to offer all-private rooms. The West Florida Healthcare campus includes the all private room acute care hospital, the area's only comprehensive physical rehabilitation hospital, and a mental health facility. Affiliated with HCA, the nation's leading provider of healthcare, West Florida Healthcare offers major services in cardiology/cardiovascular surgery, oncology, neurology/neurosurgery, orthopedics, emergency care, behavioral health, obstetrics, rehabilitative medicine and many other medical specialties. For more information, call (850) 494-3212.