Patient Navigator
In the Fight Against cancer, Finding Answers is Half the Battle.
(850) 494-5325
Introducing the Patient Navigator at West Florida Cancer Center.
West Florida Cancer Center is proud to offer your own personal guide to help you through all aspects of your cancer care. In one phone call, you can have all of your cancer care questions answered. Your Patient Navigator will:
Coordinate your care with physicians
Help schedule appointments
Answer questions about treatment options
Ensure you receive the care you deserve
Be your own personal guide before, during and after your treatment plan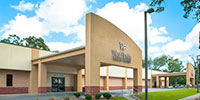 For more information on the West Florida Cancer Center, call (850) 494-5325 or download the 2012 Information Booklet.
West Florida Cancer Center

2130 E. Johnson Avenue
Pensacola, FL 32514
View Map