West Florida Cancer Center
Nationally Recognized Cancer Care Delivered Locally by Physicians You Know and Trust

At the West Florida Cancer Center, we offer technology to detect, pinpoint, and beat cancer. When battling cancer, you need every advantage on your side and we have access to the region's most advanced technology to help you beat cancer.The strength of our network of care lies in the expertise of our team and the arsenal of technology we have at our fingertips to develop an individualized treatment plan for each patient.
By choosing the West Florida Cancer Center, you will have access to:
Comprehensive care including a range of state-of-the-art treatment options
A Patient Navigator who will serve as your own personal guide to help you through all aspects of your cancer care. Learn more about the Patient Navigator.
A multi-specialty team approach to coordinate the best treatment options
Information about ongoing clinical trials and new treatment options
Access to cancer-related information, education and support
A cancer registry that collects data on type and stage of cancers and treatment results and offers life-long follow-up
Quality care close to home
Download the 2012 booklet about the West Florida Cancer Center»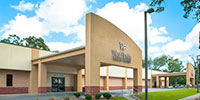 For more information on the West Florida Cancer Center, call (850) 494-5325 or download the 2012 Information Booklet.
West Florida Cancer Center

2130 E. Johnson Avenue
Pensacola, FL 32514
View Map