Emergency Care
The Emergency Department of West Florida Hospital
8383 N. Davis Highway
Pensacola, FL 32514
Phone: (850) 494-3737
map & directions
If you think you may be experiencing a medical emergency, call your doctor or 911 immediately.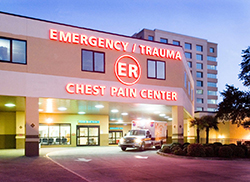 The Emergency Department at West Florida Hospital is open 24 hours a day, 7 days a week to serve your immediate healthcare needs. Our specially-trained staff includes specially-trained emergency medicine physicians, physician assistants, nurse practitioners, registered nurses, technicians, and health unit coordinators. Our services also include the area's only Accredited Chest Pain Center, an Advanced Primary Stroke Center, and a Fast Track service for minor injuries and illnesses.
When you need emergency medical services, the Emergency Department at West Florida Hospital is standing by and ready to help you.
ITriage™
West Florida Hospital offers the Triage™ mobile application for all iPhone, smartphone and desk top users. With iTriage, area residents have immediate access to the ER Wait times at West Florida Hospital from all mobile devices and computers.
With iTriage, consumers can:
Evaluate symptoms
Learn about possible causes
Find appropriate locations for treatment
Get cost information based on the type of facility
To access iTriage, visit westfloridahospital.com on your mobile device.
Health Articles & Tips