PGY-1 Pharmacy Residency Program
West Florida Healthcare is proud to be the only hospital in the area to offer all-private rooms as well as the area's only Accredited Chest Pain Center. The facility is also an Advanced Primary Stroke Center and is the area's only accredited Breast Imaging Center of Excellence. The West Florida Healthcare campus includes the all private room acute care hospital, the area's only comprehensive physical rehabilitation hospital, a mental health facility and a cancer center. Affiliated with HCA, the nation's leading provider of healthcare, West Florida Healthcare offers major services in oncology, orthopedics, cardiology/cardiovascular surgery, neurology/neurosurgery, emergency care, behavioral health, obstetrics, rehabilitative medicine and many other medical specialties.
West Florida Healthcare Department of Pharmacy is devoted to providing valuable training for incoming pharmacy residents interested in pursuing a career in hospital and health-system pharmacy with a focus on clinical care. The residency program, which began in July 2011, is in the accredidation process with ASHP and currently offers PGY-1 opportunities.
In addition to providing the best overall quality of care to our patients, we also offer a pharmacy practice residency program (PGY-1).
Our supportive, close-knit workplace means a friendly, caring, patient-centered environment with one-on-one daily interactions with directors/preceptors, private office space and laptop access to all of the necessary clinical tools (including PubMed, Clinical Pharmacology, Sentri-7 and more).
Pharmacy Department
The mission of West Florida Hospital's Pharmacy Department is to utilize the knowledge of therapeutics and medications to ensure the best possible care of our patients. Our focus is on resolving and preventing drug-related problems, minimizing patient costs and ultimately improving patient satisfaction and safety.
In an effort to carry out our mission, our colleagues' responsibilities include therapeutic drug monitoring, drug information provision, and continuous education of patients and health care professionals. Our staff also has the opportunity to train our PGY-1 Residents and to work with Doctor of Pharmacy Advanced Practice students from Auburn University, Florida A&M University, and the University of Florida. With access to the latest pharmaceutical technology, our pharmacists and pharmacy staff are well-equipped to optimally provide patient-centered care.
Inpatient Practice
Inpatient Practice West Florida Hospital offers 4-week elective opportunities in a variety of specialty areas, including:
Acute Care/Internal Medicine
Cardiology
Critical Care
Emergency Medicine
Infectious Disease
Oncology
Psychiatry
Ambulatory Care at the VA in Pensacola
Pediatrics at Sacred Heart Hospital in Pensacola
Residency Program Overview
Postgraduate Year 1 (PGY-1)
The PGY-1 Residency Program provides the resident with experience and training in acute care, drug information, drug use policy development, practice management, and research.
The resident will be an active member of the healthcare team with opportunities to influence medication use and safety practices. The resident will have opportunities to be involved with teaching, drug information provision, and research presentations on the local, state, and national levels.
The PGY-1 program at West Florida Hospital offers flexibility, while providing a strong foundation in all areas of pharmacy practice. The program is in the accreditation process with ASHP. Teaching opportunities are available through Auburn University.
Duration/Type: 12 months/Residency
Number of Positions: 2
Application Deadline: Thursday, January 10, 2013
Start Date: Early July
Estimated Stipend: $37,500
Interview Required: Yes
Benefits:
16 days of personal leave
Dental coverage
Educational and professional travel allowances
Health insurance
Life insurance
Professional leave for conferences and interviews
Stipend
Rotations Descriptions
The core rotations of the program include:
Acute care/internal medicine
Critical care
Orientation/Staffing (longitudinal)
Pharmacy practice management (longitudinal)
Elective rotations can occur in infectious disease, informatics, nutritional support, oncology, pediatrics, primary care, psychiatry, rehabilitation, surgery, and transitional care/geriatrics.
Residency Coordinator Bio & Contact Information
Dr. Ernie Cyr graduated with his Doctor of Pharmacy degree from the Massachusetts College of Pharmacy and Health Sciences in 2000. From there, he completed a PGY-1 Pharmacy Practice Residency in the Southern Arizona VA Healthcare System. He currently serves as the Clinical and Residency Coordinator for West Florida Hospital, where he serves as a leader in committees on antimicrobial management, P&T, Chest Pain, sepsis, diabetes management, etc.
Ernie Cyr, Pharm.D.
Clinical/Residency Coordinator
Department of Pharmacy
West Florida Hospital
8383 North Davis Highway
Pensacola, FL 32514
Phone: (850) 494-4922
Fax: (850) 494-4917
Email: ernie.cyr@hcahealthcare.com
Current Residency Bios
Dr. Eleanor Bituin received her Bachelor's degree in Biology from the University of Virginia in 2004. She earned her Doctor of Pharmacy degree in 2012 from Virginia Commonwealth University/Medical College of Virginia School of Pharmacy. Her professional interests include internal medicine, ambulatory care, and diabetes education. Following PGY-1 Residency, Eleanor plans on serving as a clinical preceptor and going into academia in the future.
Dr. Carmen Ward is a first-year pharmacy practice resident originally from Cedartown, Georgia. She received her Doctor of Pharmacy in 2012 from the University of Georgia. Carmen is a member of ASHP, APhA, and Phi Delta Chi. Her professional interests include neurology, infectious disease, and cardiology. After completion of her PGY1, she hopes to obtain a clinical pharmacist position where she may work alongside a multidisciplinary health care team and become a preceptor for future pharmacy students.
Residency Graduates
Dr. Deanna Fernandes
After completion of her PGY-1 residency at West Florida Hospital, Dr. Fernandes, is pursuing a one-year geriatric fellowship with the University of Miami and the Miami VA.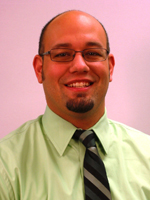 Dr. Shane Chordas
After completion of his PGY-1 residency at West Florida Hospital, Dr. Chordas has become a full-time pharmacist at West Florida Hospital. He continues to be actively involved in the expansion of our clinical pharmacy services.
Application Requirements
Eligibility requirements for the PGY-1 Pharmacy Practice Residency Program:
Graduation from an ACPE-accredited school of pharmacy with a Doctor of Pharmacy degree
Eligible for licensure or already licensed as a pharmacist in the State of Florida
On-site interview
Application Process:
Our residency program is utilizing the new Pharmacy Online Residency Centralized Application Service (PhORCAS). The PhORCAS portal may be accessed at: https://portal.phorcas.org/
Standard Requirements for an application in PhORCAS include:
Demographics
Academic History (pharmacy and non pharmacy colleges attended)
Transcripts
Curriculum Vitae
Personal Statement/Letter of Intent
Extracurricular activities
3 Letters of Recommendation/References
Application deadline: Thursday, January 10, 2013