The Emergency Department of West Florida Hospital
8383 N. Davis Highway
Pensacola, FL 32514
Phone: (850) 494-3737
map & directions
If you think you may be experiencing a medical emergency, call your doctor or 911 immediately.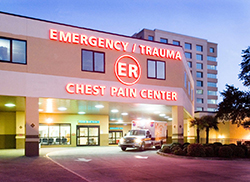 The Emergency Department at West Florida Hospital is open 24 hours a day, 7 days a week to serve your immediate healthcare needs. Our specially-trained staff includes specially-trained emergency medicine physicians, physician assistants, nurse practitioners, registered nurses, technicians, and health unit coordinators. Our services also include the area's only Accredited Chest Pain Center, an Advanced Primary Stroke Center, and a Fast Track service for minor injuries and illnesses.
When you need emergency medical services, the Emergency Department at West Florida Hospital is standing by and ready to help you.
Senior Emergency Services
Senior Emergency Services in the ER at West Florida Hospital Provides a New Standard of Care for Geriatric Patients and Their Families
Older adults are at greater risk for cognitive and functional decline due to a combination of vulnerability, frailty and acute illness. Given the growth in the elderly population, changes in geriatric patient care will impact every level of health care delivery. By addressing those needs in the emergency setting, hospitals can dramatically improve the transition back to home or other health care setting, minimize emergency room 'bounce'back,' and better prepare caregivers for whatever is to come.
Health Articles & Tips
Learn about Emergency Preparedness