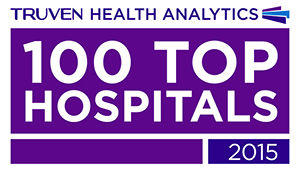 West Florida Hospital was today named one of the nation's 100 Top Hospitals® by Truven Health Analytics,™ a leading provider of data-driven analytics and solutions to improve the cost and quality of healthcare.
The Truven Health 100 Top Hospitals® study identifies hospitals and leadership teams that provide the highest level of value to their communities, based on a national balanced scorecard. The 100 Top Hospitals balanced scorecard measures overall organizational performance across 11 key analytic measures including patient care, operational efficiency and financial stability. The study has been conducted annually since 1993. This is the second time West Florida Healthcare has been recognized with this honor.
"We are extremely honored to have been selected as our area's only 100 Top Hospital Award recipient," said Brian Baumgardner, President and CEO of West Florida Healthcare. "We earned this award because our dedicated team of associates, physicians, and volunteers are focused on delivering high quality, compassionate care to our patients and their loved ones every day. This prestigious distinction demonstrates why West Florida Healthcare continues to be a leader in quality care in our area."
The first hospital in the area to offer all private rooms, West Florida Healthcare proudly provides market-leading quality outcomes performance. West Florida Healthcare is also recognized as the area's first Accredited Chest Pain Center with PCI, the area's first Breast Imaging Center of Excellence, and the area's only Certified Atrial Fibrillation
Program. West Florida Healthcare has also been designated as an Advanced Primary
Stroke Center and has been named as a "Key Performer on Quality Measures" by The Joint Commission for four years in a row. The West Florida Healthcare campus includes the all private room acute care hospital, the area's only comprehensive, CARF-accredited physical rehabilitation hospital, a mental health facility, and a cancer center. Affiliated with HCA, the nation's leading provider of healthcare, West Florida Healthcare meets the community's healthcare needs in major services such as oncology, orthopedics, cardiology, cardiovascular surgery, robotic-assisted surgery, critical care, neurology/neurosurgery, emergency care, urology, behavioral health, gastroenterology, obstetrics, pulmonary, and rehabilitative medicine.

To conduct the 100 Top Hospitals study, Truven Health researchers evaluated close to 3,000 short-term, acute-care, nonfederal hospitals. Risk-adjusted methodologies were used to analyze public information — Medicare cost reports, Medicare Provider Analysis and Review (MEDPAR) data, and core measures and patient satisfaction data from the Centers for Medicare & Medicaid Services (CMS) Hospital Compare reports. Hospitals do not apply, and winners do not pay to market this honor.
The winning hospitals were announced in the March 2, 2015, edition of Modern Healthcare magazine.
"This year's 100 Top Hospitals represent the highest national standards in hospital care and management today. They set the benchmarks for peers around the country to follow — consistently delivering outstanding quality of care, satisfaction and community value at a reasonable cost," said Jean Chenoweth, senior vice president for performance improvement and the 100 Top Hospitals program at Truven Health Analytics. "The majority of the 2015 award winners have produced year-to-year performance improvement, as well. This speaks to the consistent focus on excellence by the entire organization and the men and women who serve patients."
The study shows that if all hospitals in the U.S. performed at the level of this year's winners:
126,471 additional lives could be saved
108,926 additional patients could be complication-free
$1.8 billion in inpatient costs could be saved
The average patient stay would decrease by half a day
Episode-of-illness expense would be 2 percent lower than the peer average
More information on this study and other 100 Top Hospitals research is available at 100tophospitals.com.
News Related Content