Index:
---
Pharmacy Department
Mission Statement:
The West Florida Hospital Department of Pharmacy is dedicated to the provision of excellence in patient care, education, community service, and research.
Clinical Pharmacy Services Include:
Automatic policies providing several services including: renal dosing of over 100 medications, IV to PO conversion of over 30 medications, pharmacokinetic management of all vancomycin and aminoglycosides, dose rounding for several weight-based medications, parenteral nutrition management in collaboration with registered dieticians
Consultation services including: anticoagulation (including warfarin) dosing and monitoring, pain management, post-operative PCA management, glycemic control management
Utilization of a medication therapy system, Vigilanz, alerts pharmacist to medication management opportunities (antimicrobial de-escalation, renal dose adjustment alerts, etc.)
Admission and discharge medication reconciliations with patient education
Daily antimicrobial review for de-escalation and appropriateness
Daily direct patient care rounding with an interdisciplinary team (IDT)
Drug information in-services to all members of the healthcare team
---
The PGY-1 Residency Experience at WFH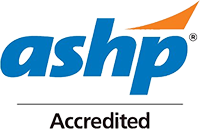 Longitudinal Learning Experiences:
Infectious Diseases
Staffing
Pharmacy Practice Management
Research Project
Core Learning Experiences:
Orientation (6 weeks)
Adult Internal Medicine (8 weeks)
Critical Care (8 weeks)
Emergency Medicine (4 weeks)
Pharmacy Administration (4 weeks)
Pediatrics (4 weeks)
Elective Learning Experiences:
Antimicrobial Stewardship (4 weeks)
Cardiology (4 weeks)
Oncology (4 weeks)
Psychiatry (4 weeks)
Rehabilitative Medicine (4 weeks)
---
PGY-1 Residency Program Overview
Program Purpose:
PGY1 pharmacy residency programs build on Doctor of Pharmacy (Pharm.D.) education and outcomes to contribute to the development of clinical pharmacists responsible for medication-related care of patients with a wide range of conditions, eligible for board certification, and eligible for postgraduate year two (PGY2) pharmacy residency training.
Purpose Description:
The residency program at WFH began in July 2011, receiving full accreditation from ASHP in April 2013. The PGY-1 pharmacy residency prepares its graduates to assume positions as patient care clinicians, to serve as adjunct faculty for a college of pharmacy with the optional teaching certificate program, to become a board certified pharmacotherapy specialist, or to pursue a second year postgraduate training in a focused area of practice.
Program Overview:
The resident will be an active member of the healthcare team with opportunities to influence medication use and safety practices. The resident will have opportunities to be involved with teaching pharmacy students, formulary management, policy development, antimicrobial stewardship, residency project presentation at the annual ASHP Midyear Clinical Meeting and the Florida Residency Conference.
Our supportive, close-knit workplace means a friendly, caring, patient-centered environment with one-on-one daily interactions with preceptors and the medical staff. Each resident has his/her own personal desk in a spacious office. Residents also receive a personal laptop with remote access to all of the necessary clinical tools a resident needs. The PGY-1 program at West Florida Hospital offers flexibility, while providing a strong foundation in all areas of pharmacy practice.
It is the goal of the PGY-1 pharmacy practice residency at WFH to provide the following outcomes to all residents completing the program:
Confidence to work autonomously as a clinical pharmacist and collaborate in interdisciplinary groups as part of the healthcare team
Competence to provide education to other health care professionals in various settings
Leadership skills to work within any healthcare system
Awareness and initiative to lead medication safety efforts throughout the health system
Enhanced professionalism and marketable job skills to further a career in the practice of clinical pharmacy
Duration/Type: 12 months/Residency
Number of Positions: 2
Application Deadline: The 6th of January, every year
Start Date: The end of June
Estimated Stipend: $42,000
Interview Required: Yes
Benefits:
16 days of paid time off
Full dental, health, and vision coverage
Educational and professional travel allowances
Life insurance
---
Application Requirements
Our residency program utilizes Pharmacy Online Residency Centralized Application Service (PhORCAS). Access the PhORCAS portal. In order to apply for the PGY-1 pharmacy residency at WFH, we do not require anything beyond the standard PhORCAS requirements. However, as part of the selection process, an on-site interview and presentation will be required. Finally, incoming residents must be eligible for licensure or already licensed as a pharmacist in the State of Florida.
---
Residency Program Director
Dr. Melissa Holloway earned her Doctor of Pharmacy in 2014 from Belmont University College of Pharmacy in Nashville, TN. After receiving her PharmD, she completed a post-doctoral PGY-1 pharmacy residency at West Florida Hospital in June of 2015. From there she stayed on as a full-time clinical pharmacist involved in precepting residents. After training for several years under the previous Residency Program Director (RPD) Ernie Cyr, she transitioned into the PGY-1 Pharmacy RPD in March 2019. In order to actively pursue antimicrobial stewardship activities at WFH, Dr. Holloway became a board-certified infectious diseases pharmacist (BCIDP) and earned MAD-ID (Making a Difference in Infectious Diseases) certification from the Advanced Antimicrobial Stewardship Training Program provided by MAD-ID and the National Foundation for Infectious Diseases (NFID). Dr. Holloway has been a prominent member of the Antimicrobial Management Program at WFH and in 2018 she served on HCA's Clinical Pharmacy Advisory Board.
Melissa Holloway, PharmD, BCIDP, BCPS
Advanced Clinical Pharmacist and PGY-1 Pharmacy Residency Program Director
Department of Pharmacy
West Florida Hospital
8383 North Davis Highway
Pensacola, FL 32514
Phone: (850) 494-4217
Fax: (850) 494-4917
Contact via Email
---
Current Residents
Dr. Kristen Seaux
Dr. Kristen Seaux is originally from Lafayette, Louisiana. She received her Doctorate of Pharmacy degree from the University of Louisiana Monroe College of Pharmacy. Her clinical interests include infectious diseases and oncology. Upon completion of her PGY-1 residency, Dr. Seaux intends to pursue a clinical pharmacist position with the opportunity to precept students.
Dr. Meena Manepalli
Dr. Meena Manepalli earned her Doctorate of Pharmacy from the University of Florida after completing her Bachelor of Science in Biochemistry from Florida State University. Her professional interests include oncology, infectious diseases, and emergency medicine. During her residency, Dr. Manepalli hopes to pursue the Teaching and Learning Certificate and MAD-ID training. Upon completion of the PGY-1 residency, Dr. Manepalli plans to pursue a PGY2 with a long term goal of academia.
---
Residency Graduates
Find out more about our past PGY-1 pharmacy practice residents
---
Meet the Preceptors
Find out more about our current pharmacy residency preceptors