West Florida Rehabilitation Institute Testimonial
Susan Burton - "I Just Want to Give Back"
In April of 2010, Susan Burton had a major stroke that paralyzed her entire right side. She could not talk and she had problems with muscle control, understanding words, and even swallowing.
After 11 days as an inpatient at the West Florida Rehabilitation Institute, Susan was discharged to continue her therapy as an outpatient. Susan's team at the Rehab Institute designed a program to help her with coordination, balance, language, problem solving, memory, and daily activities.
'I didn't know what to think when I started therapy,' Susan said. "I had never known anyone who had suffered a stroke, so I didn't know what to expect.'
Four months later, Susan had another stroke, this one requiring surgery. Follow-up cardiovascular surgery helped improve the blood flow to her brain. Though the second stroke and surgeries delayed her progress, she and her therapists continued to work hard as a team.
As part of her therapy, Susan re-learned how to crochet to help her recover the use of her right arm and hand. And, during her physical therapy sessions, Susan and her therapists incorporated word games to help reinforce her speech and memory.
"We would play a game throwing the balls around and the therapists would say, 'We're going to teach you to say the states'", Susan remembers. "We laughed because everything I was saying was wrong, but it helped my mind while I was doing my physical therapy.' In addition to physical therapy, Susan received occupational therapy including the Driving Program and speech therapy.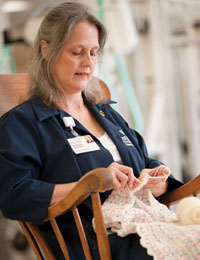 Susan finished her outpatient program in March of 2011, but still participates in the Aquatics Program to build her strength and endurance. When her outpatient therapy program ended, Susan realized that she wanted to help other stroke patients by becoming a volunteer at the Rehab Institute. In addition to helping the staff, Susan assists with patients, transporting them to and from therapy, helping them with their meals, and offering words of encouragement.
Susan is grateful for the care and support she received at the West Florida Rehabilitation Institute and is happy that she's able to give a little back.
"If it were not for the people at the West Florida Rehabilitation Institute, I wouldn't be like I am today," Susan said.