Cardiac care in Pensacola, Florida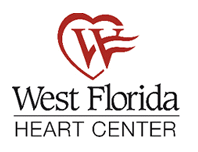 At West Florida Healthcare, our Pensacola cardiologists are proud to offer advanced diagnostics and treatment options to provide patients with comprehensive cardiac services.
The Heart Center at West Florida Hospital includes a team of hospital-based, board-certified cardiologists and board-certified cardiovascular surgeons, as well as catheterization labs, an electrophysiology lab and nuclear cardiology services. Our goal is to give the immediate treatment necessary to prevent and treat heart diseases and conditions.
For more information about our cardiac care services, please call (850) 969 7979.
About coronary heart disease
Coronary heart disease occurs when major blood vessels (coronary arteries), which provide blood, oxygen and nutrients to the heart, become damaged by plaque and inflammation. Coronary heart disease may build up over a long period of time due to high cholesterol, smoking, high blood pressure or diabetes, so it might be difficult to identity at first. However, patients can prevent it by maintaining a healthy diet and exercise.
We are committed to offering comprehensive cardiac care services to prevent and treat coronary heart disease.
Heart screening and imaging
We offer same-day appointments and personalized care for your specific cardiac needs. Our diagnostic tests include:
Electrocardiogram (ECG): A ECG is a test that monitors and displays the heartbeat to detect heart rhythm patterns.
Echocardiogram (ECHO): Essentially, an ECHO is an ultrasound of the heart. It involves using high-frequency sound waves to create images of the heart.
Stress testing (GXT): This is a diagnostic test to evaluate exercise and determine the patient's risk of heart disease.
Holter monitoring: Holter monitoring is a portable device used to monitor and record the patient's heart activity for 24 to 48 hours. Doing this allows doctors to detect abnormal heart rates and rhythms.
Event recorder monitoring: Event recorder monitoring captures the same information as Holter monitoring but for a longer period of time. Doctors can then analyze the electrical activity of your heart.
Signal-averaged ECG: A signal-averaged ECG is diagnostic test where electric signals from the heart are averaged to reveal "late potentials," which can predict heart arrhythmias and sudden cardiac death.
Transesophageal echocardiogram (TEE): A TEE uses high-frequency sound waves to create detailed images of the heart and the arteries that surround it.
Nuclear cardiology: These tests monitor the amount of blood flow to the heart muscle, which doctors can use to diagnose coronary heart disease.
Cardiac catheterization: This is a procedure where a long, thin tube (catheter) is placed inside the patient's artery or vein to measure blood flow and pressure in the heart. By doing this procedure, doctors can diagnose and treat heart disease.
If you need to be admitted to the hospital, we guarantee your own private room at no additional charge. We understand that a private room makes you more comfortable and when you are more comfortable, you get more rest and recover faster. It also reduces the chance of infection and decreases stress.
Heart attack treatment
We are an Accredited Chest Pain Center with PCI (percutaneous coronary intervention) and Resuscitation, as designated by the American College of Cardiology. This distinction means we meet stringent guidelines, follow established protocols and offer multidisciplinary teams for heart attack treatment. West Florida Hospital was the first facility in the area to become an Accredited Chest Pain Center.
Heart attack warning signs
Some heart attacks are sudden and intense but most start slowly, with mild pain or discomfort. Often, the people affected aren't sure what's wrong and wait too long before getting help. Here are some signs that can mean a heart attack is happening:
Chest discomfort: Most heart attacks involve discomfort in the center of the chest that lasts more than a few minutes or that goes away and comes back. It can feel like uncomfortable pressure, squeezing, fullness or pain.
Discomfort in other areas of the upper body: Symptoms can include pain or discomfort in one or both arms, the back, neck, jaw or stomach.
Shortness of breath: This may occur with or without chest discomfort.
Other signs: These may include breaking out in a cold sweat, nausea or lightheadedness.
If you think someone is having a heart attack, call 911 immediately.
Cardiovascular treatments
Our cardiologists are dedicated to treating each patient's cardiovascular condition. We offer a range of treatments, including:
Coronary stenting/balloon angioplasty
Heart and vascular surgery
Implantable cardioverter defibrillator
Pacemaker insertion
Percutaneous transluminal coronary angioplasty (PTCA)
Radio frequency ablation
Rotational atherectomy system
Thoracic surgery
Transmyocardial revascularization (TMR)
Vascular and endovascular surgery
Vascular disease is an abnormal condition of the blood vessels (arteries and veins), which are the tubes through which blood is pumped from your heart to the rest of the body. Our vascular surgery team offers vascular and endovascular surgery for patients with vascular disease.
Cardiac support services
Additionally, we offer services which offer vital information and aim to provide compassionate guidance to our patients. These include:
Pacemaker clinic
Cardiac rehabilitation
HerHeart program
Mended Hearts support group
Heart emergency network
Health education center
HerHeart program
We are proud to offer HerHeart, a program designed to fight cardiovascular disease in women. Through HerHeart, we offer women's services such as education, screenings and links to healthcare resources. Our mission is to inspire women to become more involved in their heart health and give them the tools and guidance they need to accomplish their health goals.
To find out about our next HerHeart seminar or free screening, please call (850) 494-3212.
Cardiology locations
Retrieving location data...