Diagnostic imaging in Pensacola, Florida
At West Florida Healthcare, we are dedicated to providing prompt, accurate test results so you and your doctor can better understand your health. Our diagnostic imaging center provides inpatient and outpatient services in Pensacola.
For more information about our imaging services or to schedule an appointment, please call (888) 894-2113.
Medical imaging services
We provide diagnostic imaging at West Florida Hospital for adults and children so doctors can accurately diagnose and treat patients. Our services include:
Bone density testing: The bone density test is a low dosage X-ray that determines if you have osteoporosis, a condition which makes bones weak and brittle.
Computed tomography (CT): CT refers to a computerized X-ray procedure to create detailed images of the internal organs, bones, soft tissues and blood vessels. This test can detect several conditions, such as bone and joint fractures, cancers or heart disease.
Interventional radiology: Interventional radiology uses imaging technology to guide minimally invasive surgical procedures that help diagnose and treat certain conditions.
Magnetic resonance imaging (MRI): MRI uses a strong magnetic field to create detailed images of organs and tissues inside the body.
Nuclear medicine: Nuclear medicine refers to a specialized area of radiology that uses small amounts of radioactive substances for research, diagnosis and treatment.
Ultrasound: An ultrasound scan uses high frequency sound waves to produce images of the inside of the body.
Lung cancer screening
As Lung Cancer Screening Center accredited by the American College of Radiology (ACR), we offer low-dose CT lung cancer screening for the early detection of lung cancer.
To ensure accurate test results, we ask that patients undergoing lung cancer screening meet the following requirements:
55 to 77 years old
Former smoker with a minimum of a 30 pack per year history who has quit smoking in the last 15 years
No signs or symptoms of current lung cancer (coughing up blood, unexplained cough, weight loss or chest pain)
Patients may also be eligible for lung cancer screening if they meet the following criteria:
50 years old or older
20 pack per year (or less) smoking history and have one of the following risk factors: radon exposure, lung disease history, family history of lung cancer or other occupational exposure to known cancer-causing chemicals
No signs or symptoms of current lung cancer (coughing up blood, unexplained cough, weight loss or chest pain)
Experts believe that the levels of radiation exposure used in this screening cause minimal risk. While there is agreement that there may be potential harm from radiation associated with repeated low-dose CT exams, the risk cannot be accurately estimated. This is because modern scanners use lower doses of radiation, and there is not long-term experience with lung screening being performed this way.
If you think a lung cancer screening would be beneficial to you, talk to your physician about referring you to our program.
Preparing for imaging services
Your physician, nurse or technologist will be available to explain the procedure and answer any questions if a test is ordered while you are a patient at our hospital.
Prior to your arrival for an outpatient test, please discuss the procedure and special instructions with your referring physician.
We ask that you follow these general guidelines when preparing for an imaging procedure:
Ask your referring physician if there are any food or beverage restrictions for your test.
If there is a chance you are pregnant or if you are breastfeeding, let your technologist know.
If you have had previous reaction to CT contrast, let your technologist know.
Remove items containing metal before taking the test. This includes jewelry, watches, hairpins, eyeglasses and/or dentures.
We recommend wearing loose-fitting, comfortable clothes. Patients may be asked to change into a hospital gown.
When preparing your child for a pediatric exam:
Please bring a change of clothes, bottle and diaper for small children.
Please bring your child's favorite book, game or toy to the appointment.
For your convenience, complimentary valet parking is available at the hospital's main entrance.
Breast imaging
---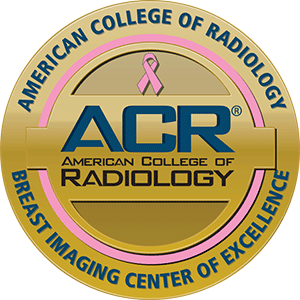 West Florida Hospital was the area's first facility to be designated as an accredited Breast Imaging Center of Excellence by the ACR, setting the standard of breast care for our community. This accreditation has only been given to only a few organizations in the state of Florida. It is a testament to the high level of quality care you can expect from our physicians and staff.
As an ACR-accredited facility, we have achieved accreditation in the following breast imaging modalities:
Breast ultrasound: The breast ultrasound uses high frequency sound waves to examine the inside of breasts, typically to screen for tumors or abnormalities.
Digital mammography: This test uses low-energy X-rays to examine breasts to detect breast cancer.
Stereotactic breast biopsy: A stereotactic breast biopsy uses mammography to help locate an abnormality in the breast. It then removes a tissue sample for examination.
Ultrasound-guided breast biopsy: This procedure uses sound waves to locate a lump or abnormality and remove tissue for examination.
Preparing for your mammogram
Schedule your mammogram following your menstrual cycle, when breasts are less tender.
Please contact your physician prior to mammogram if you are scheduled for a screening mammogram and are experiencing pain or discharge.
Wear a two-piece outfit on the day of your appointment.
Do not apply perfume, deodorant, talcum powder or lotion under the arms or near the breasts the day of your exam.
If your previous mammogram or breast ultrasounds were done elsewhere, please have them mailed to us.
Please inform your physician and your mammographer if there is a chance you are pregnant.
Imaging services locations
Retrieving location data...