Maternity services in Pensacola, Florida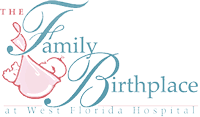 At West Florida Healthcare, we understand that you need comfort and privacy in your birth experience. That's why we offer specialized birth plans, private rooms and as much family involvement as you want. Our OB/GYNs and nurses guide and support you throughout labor and delivery.
For more information about our maternity services, please call (850) 494-4368.
Childbirth guidance and support
At The Family Birthplace at West Florida Hospital, we want to make each patient feel comfortable and confident in their birth journey. We offer childbirth preparation classes to help prepare you for labor and childbirth, and we are here to answer any questions you may have.
We encourage you to choose your birth plan. Our staff is well-trained in all childbirth techniques. We will support you in whatever method of delivery you and your physician or midwife choose, and we will work with you to make that plan happen. At The Family Birthplace, you are a team member in your birth.
Family-centered childbirth services
We understand that giving birth is a family affair, and we encourage the involvement of family and friends in the birth process.
We provide accommodations for your partner or a loved one to be with you 24 hours a day—during labor and delivery and throughout your hospital stay. After birth, your baby will stay with you in your room. Grandparents, other family members and friends are invited to visit with you and the baby as often as you'd like.
Patient-focused maternity suites
It's important to have the people you want and need close by, but we also understand the importance of privacy. We've put an end to the game of musical doors where you're continually moved from labor room, to delivery room, to recovery room.
The maternity suites at The Family Birthplace are designed so that most mothers will labor, deliver and recover in the same birthing suite throughout the entire hospital stay. Our physicians, midwives, nurses and any necessary equipment come to you.
This system ensures that you and your family have optimal privacy to share this very personal, intimate time together. This concept is called LDRP (labor/delivery/recovery/postpartum) care.
Labor and delivery locations
Retrieving location data...